***UPDATE***
Bids are open! Click here to fill out the form
Current team list (as of 1/28/16)
WHEN
Beach- March 15-17, 2016
Grass- March 19-20, 2016
Beach- March 22-24, 2016
WHERE
Grass- Woerner Turf Farm, Foley, AL
Beach- Gulf State Park, Gulf Shores/Orange Beach, AL
(map from beach location to grass)
WHO
Beach- Men's/Women's/Mixed (college and maybe club depending on space)
Grass- Sanctioned college men and women
DETAILS
IT is finally happening: Bama Secs is hosting a tournament, and not just any tournament- a spring break tournament. This tournament has been built for your perfect spring break, and it is easy to get to. The field sites are just miles from the intersection of 2 of the USA's busiest interstates, I65 and I10.
You'll notice that we have 3 dates on the list above, and you are wondering what exactly that means. Let's say your school has a March 14-18 spring break in 2016. You would come down to Gulf Shores, play in the Beach tournament on Tues/Weds/Thurs, take Friday off, and then play in the grass tournament on Sat/Sun before heading back to school. If your spring break is March 21-25, you would do the opposite- you would play the grass tournament in Foley on Sat/Sun, take Monday off, and then play the beach tournament Tues/Weds/Thurs. Both events are included in your bid fee.
So your men's and women's teams like to go on spring break together? Don't you worry, we'll have a mixed division for our beach tournaments. Your school's opposite sex's team is super lame and didn't want to come play mixed with you? No problem, just find another team of the opposite sex to play mixed with.
The beach tournament will be 5v5, and will include 2/3 1 hour-ish games each afternoon. We know you don't plan to wake up before 10, and neither do we. Games will likely run from noon to 5PM, so you'll be done in time to get cleaned up before you head out for dinner and nightly activities. The fields will be next to the Gulf State Park Pavilion, so there will be plenty of access to parking, bathrooms, showers, quality concessions, covered seating, and much more.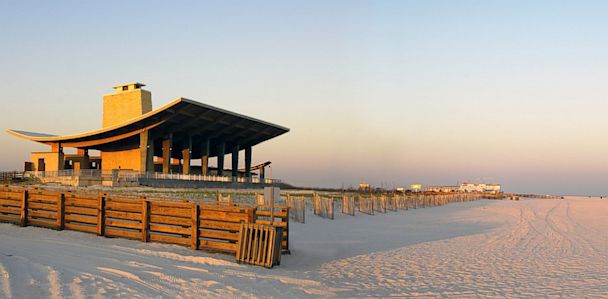 The grass tournament will be held a mere 10 miles north of the beach on the Woerner Turf Farm in Foley, AL. This turf farm has been responsible for growing the sod used on NFL Super Bowl fields, so we know it will stand up to a weekend of ultimate. The tournament will be sanctioned by USA Ultimate within the college division. You can expect all the regular tournament amenities- lined fields, water, trainers, food, horns, observers, etc. We have room for up to 21 fields, so we can accommodate 50+ men's/women's teams with everyone getting at least 6 games over 2 days.
We know, we know, you want to know about the activities since this will be your spring break. We have so much room for activities! We have plans in motion for 1-2 events for each beach segment, and 1 on Saturday night during the grass tournament. There are multiple awesome venues in the area that are interested, but we aren't releasing those details until everything is concrete. For you non-Gulf Coast teams, we are also looking at a crawfish boil since the end of March is prime crawfish season.
For those of you not on spring break either week, I'm sorry. However, you are more welcome to come play the grass tournament on its own. For those on spring break, but only wanting to play in the beach tournament, your admission to that part will depend on how much space we have. If enough teams are playing both grass and beach, we won't have space for beach only teams. The same goes for club teams wanting to play beach only- we may admit teams if we have the space. Beach only interest can be expressed as early as you like, but we won't know our space until after the full bid window opens.
There will be many tournament lodging options. Gulf State Park, where the beach tournament is, has tons of primitive camping sites along with cabins and RV hookups. What better way to spend you week than renting an RV and staying across the street from the beach? If you are looking for beach condos/houses, we will likely have a coupon code for a discount with one of the major realtors in the area, and you won't be more than a 10 minute drive from the beach fields no matter where you stay in Gulf Shores/Orange Beach. There are plenty of hotels within 5 minutes of the grass fields as well, and we have already heard from some of them on discounted rates.
Email beachparty@bamasecs.com with any questions.