First, I want to thank everyone for the great response to Part 1. We had huge readership numbers and lots of comments on here, twitter, and r/ultimate. I'm glad people feel like our thoughts are a good representation of the issues at hand.
The 2 big reasons USA Ultimate has stated as their driving force behind moving the season (and more importantly Nationals) earlier in the year are:
Get ultimate on TV, specifically ESPN.
Open up more large cities to host Club Nationals, specifically more northern ones.
I mentioned the issues ESPN is having in terms of viewership in part 1. We have to consider that cable TV, especially sports cable TV, is changing very rapidly. The almighty Disney stock is down (despite the huge uptick Star Wars has brought) because of the financial problems ESPN are having. As many in the industry. I believe in the near future we will begin to see sports sold through season passes on different streaming platforms similar to NBA League Pass or MLS Direct Kick. These may be delivered through a set top box, but the mechanisms for choosing sports is going to change.
Why then should we expect ESPN to make good on the promise to show ultimate if it isn't during football season? We already have major events not in football season that aren't being shown on TV. ESPN could easily show the college finals live on ESPNU instead of airing cut down games a week after, but they don't. Nexgen and Ultiworld do a way better job filming ultimate with far fewer resources than ESPN, and yet we as an ultimate community still don't pay for their services. Why should we expect the general public to care enough that ESPN will be willing to put their already dwindling resources into a currently niche sport.
"But guys, esports are a niche sport and ESPN is starting to show them!" Have you seen how huge of a following esports have? Twitch already broadcasts games with hundreds of thousands of spectators, and certain game tournaments have 10+ million people following the finals. The most I can remember ever seeing on a free youtube broadcast was maybe 10k. When people had to pay for a weekend pass for a tournament being streamed by NexGen, their total viewer numbers including VOD were, sorry NGN, awful.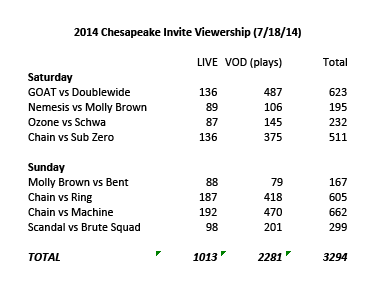 USAU has somewhere around 50k members, and while we like to talk about how fast the sport is growing, we are tiny compared to soccer, basketball, baseball, and football. Even US Lacrosse has 450k members! It's ok to admit that we are a small, niche, but growing sport.
As for opening up more cities, especially in the northern part of the US, to host nationals, the biggest roadblock to hosting isn't weather. How many large cities have not only the volunteer structure, but a facility big enough to host 3 16 team divisions with all the correct buffer zones USAU wants at their championship events? I currently live in Atlanta, and while we have a huge local ultimate scene that would likely be willing to help staff a national event, we don't have anywhere even close to big enough to host.
Let's say NYC ultimate was able to secure the fields on Randall's Island in Manhattan (assuming it worked for nationals). What do the temperatures look like for late October compared to the end of August? What would they look like the 4 other major ultimate cities?
In reality, the only thing keeping USAU from sending nationals to not Sarasota/Frisco is the lack of suitable site or lack of support from the local community. If any of the above cities had put in a viable bid prior to the reup with Frisco, I can guarantee nationals would be headed there. I have asked USAU to release the list of bids they get for TCT/Nationals that don't get picked, but they said it is against their procedure. I would love to discuss the transparency of this process, but that is a topic for another day.
While I would love to return to the days of a permanent home in Sarasota, I understand that it isn't the cheapest place in the world to get to for everyone. I believe we should have a 3 city rotation including Sarasota, Frisco, and some west coast location. Let's try that for 2 cycles and see how it works.
College Challenges
With the club season potentially moving into May, we now have a huge conflict with the college division.
College stars will forgo college seasons to focus on the new March/April club preseason. (We've already seen some players do this for pro/club)
College players will have skip tournaments to attend club tryouts.
Elite club teams will be less likely to take college players as they have to set their rosters in May.
There will be more injuries and burnout among talented college players as they now have almost no breaks in the calendar (Jan-May college season, May-Aug club season, Sept-Nov fall college/college mixed season)
Club players are less likely to coach local college teams when their respective playing seasons now overlap.
Behind just the logistics of shrinking the season down, the college-club problems created are the biggest reason this shouldn't happen. Let's be honest, for the most part, the college game is still pretty ugly to watch. It is advancing in skill and watchability because so many players have access to solid club teams during the summer that they can develop their game at an accelerated rate. Moving the season up only complicates the college-club connection. We are now going to be asking college players to somehow fit a club tryout into their end of semester schedule including exams, college series events, graduation, and moving. What do you think will be the first activity dropped? A tryout in a potentially different city that will eat up a lot of time.
In my opinion, the thing that really drives interest in the college game is how the stars are able to put a team on their back and drag them to glory. How many times have we seen a team come out of nowhere solely because they have 1 superstar player. Now how much more boring would the college division be if a dozen of these guys opted out of their last few years of college eligibility to focus on club ultimate? We will be left with a bunch of above average players duking it out instead of things like this
I'll wrap up part 2 with this- no matter how you look at things, the club season move creates way more problems than it solves. That should be a big red flag to everyone at HQ.